John Doe Live Chat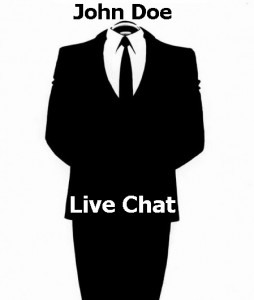 The premise of the Crime Stoppers programs is to use an anonymous tip line to receive tips about crimes that occurred or are going to occur, and to encourage such tips by offering financial incentives.
The program operates by the use of a secure telephone line, Internet site, or both, which is staffed by volunteers or paid employees, 24 hours a day.
There are times when voice calls are not possible or safe. This new John Doe Live Chat service adds to the choices citizens have to submit tips to Crime Stoppers as well as providing a live two-way communication channel in addition to the traditional phone call.
The success of any Crime Stoppers program hinges primarily on their promise of anonymity. Anything that threatens the anonymity of a caller becomes a major problem. Should a caller's identity be revealed in any reason, it is assumed that the value of the program is essentially dead.
Therefore, protecting the anonymity of any caller through any channel of communication must be a top priority.
This secure service assigns an anonymous alias (Tipster), maintaining the tipster's complete anonymity.
Sekiur's approach to delivering the John Doe Live Chat service to Crime Stoppers programs using Virtual Instance Technology by providing each customer with a Live Chat virtual private server, enabling the full customization of the service to its client's needs including disabling any logging capabilities thus adhering to the very important promise of anonymity.
No E-mail address required
Server does NOT record IP address from which messages are sent
No personal information required
No need to create a screen name to participate in live chat
Completely Anonymous
Contact us for more information or a demo at [email protected] or at 817-727-4540